Do you hate deciding what to wear in the morning because your closet is in complete chaos and you just can't find anything in there?
Don't worry. With a little bit of time and some organizing tools you'll have that closet sorted in no time at all.
And the best bit is it won't break the bank because we've found 5 closet organizers for less than $25 which means you'll have a beautifully organized closet and money left over to buy some new clothes!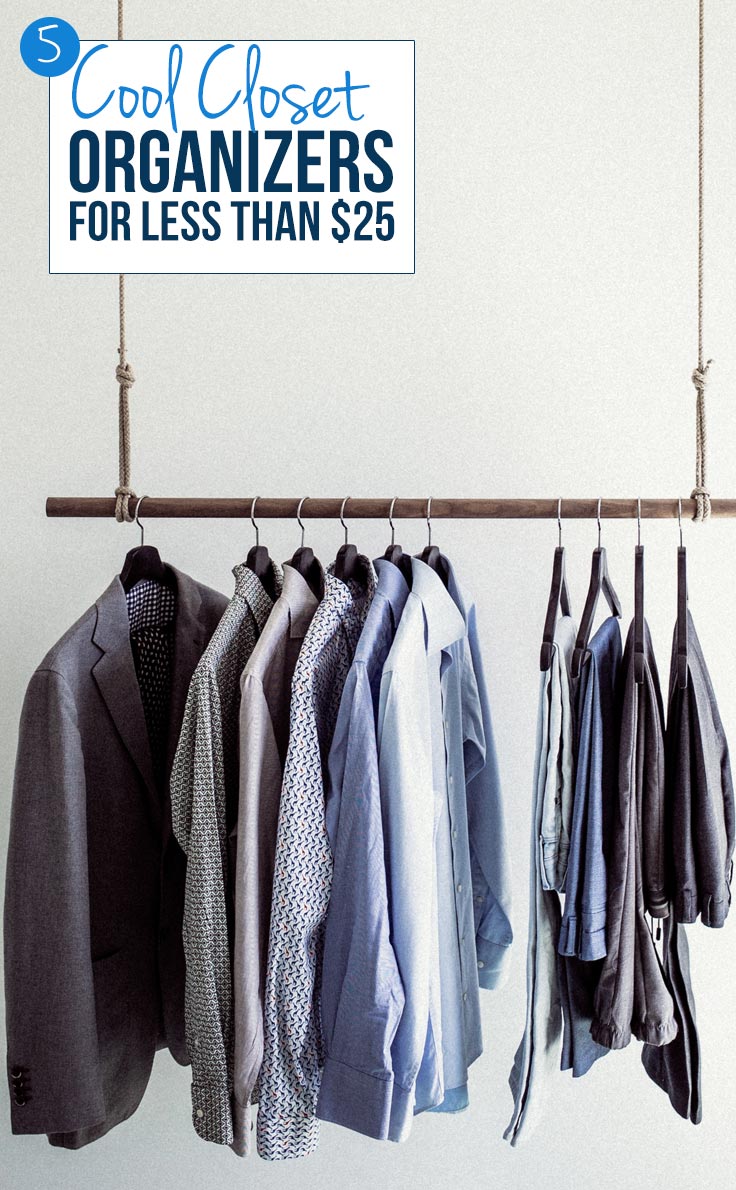 5 Closet Organizers for Less Than $25

1. Whitmor Fashion Color Organizer Collection Hanging Accessory Shelves
Hanging shelves are a must have organizer in every closet. You simply hook them over your hanging rail and then you have shelves for storing sweaters or even shoes.
2. Whitmor 3 Pair Boot Organizer
I love my boots, but hate that they never stand up and always end up strewn in the bottom of my closet! If you have the same issue it's time to treat yourself to a boot organizer – this one costs less than 25 bucks and holds three pairs of boots. Just pop it in the bottom of your closet.
3. Organize It All Closet Doubler
Do you find that some of the clothes hanging in your closet are quite short and there seems to be lots of wasted space underneath them? This closet doubler is just what you need so that you can make two tiers in your closet.
4. Hanging Closet Organizer
You might have seen these hanging closet organizers before because they're a great way of storing jewelery, but did you know they are also the perfect storage solution for underwear?
5. Sorbus Foldable Storage Cube Basket Bin
These storage cubes are perfect for storing bulky items like sweaters and shoes to keep them neat and tidy in your closet.
You have to agree that taking a little bit of time out to organize your closet will make life so much easier in the long run right?
Get more Bright Ideas
Get the latest Bright Ideas in your inbox!
Pop your email address in the box below and we'll send you the latest Bright Ideas every Friday so you don't have to miss any!