Whether we like it or not our children use emojis to communicate with their friends and I bet you have a couple of favourites you use on Facebook! This year Crayola are helping kids bring emojis off the screen with the Crayola Emoji Maker set.
Today we're taking a closer look at the kit to help you decide whether it's a good Christmas gift option for your child.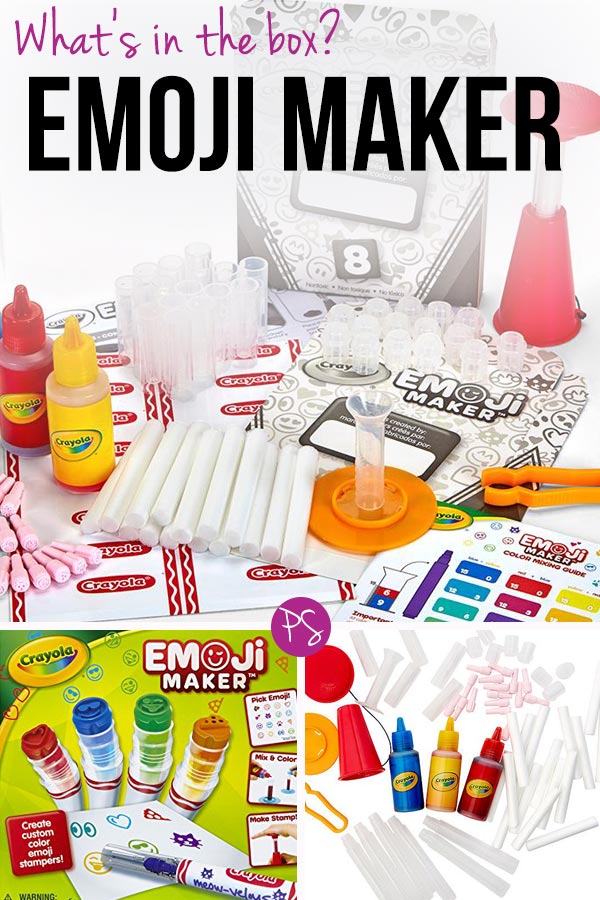 What is the Crayola Emoji Maker Kit?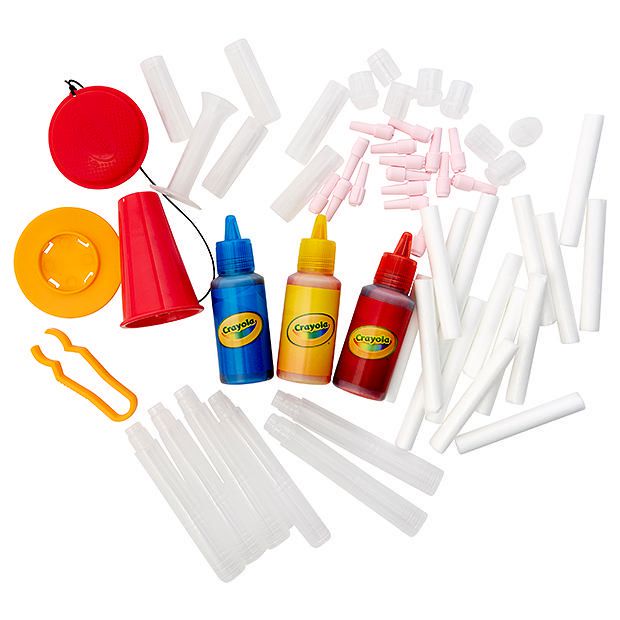 Crayola Emoji Maker, Marker Stamper Maker, Art Activity and Art Tool, Makes a Great Gift
This isn't a set of marker pens, it's actually a kit that contains everything your child needs to "make" a set of marker pens.
Before they get to the arts and crafts bit there's science involved!
What's inside the box?
Supplies for 16 stampers (barrels, labels, cores, emoji nibs, caps, plugs)
Mixing vial
Snapping tool
Base unit
Tweezers
Three ink bottles
Colour mixing guide
Two customisable cases
Your child can use the mixing guide to combine the different inks to create their favourite colours.
The instructions on how to put the stampers together are really detailed but your child might need a little help from you depending on their age and dexterity!
If you want to see more about how the markers are put together click on the little play button to watch a video!
Who Would Enjoy Using the Crayola Emoji Maker?
It's being marketed for kids aged six and over but we would suggest that children under the age of eight should be supervised or it could get quite messy.
Creative tweens are enjoying making up the stampers, and children younger than six can have fun with a little extra help from mom and dad.
They're also brilliant for kids who like to know "how" things are made. What better way to learn what a marker pen looks like on the inside than to build one yourself!
These Emoji Stampers are a great idea for kids who like to know "how" things are made! #ad https://t.co/yCai9OeJEW pic.twitter.com/AoqarSs4Wn

— Clare Swindlehurst (@SuperMommyClub) August 10, 2016
What We Love About the Emoji Maker Set
When you open the box and see all the bits and pieces that make up a stamper it looks quite daunting. But actually it's pretty easy to follow the instructions and the whole family can get involved putting together stampers in their favourite colours.
If you're a homeschooler then this is a great science lesson and a really hands on way to learn about mixing colours.
We also loved that there are two customisable storage cases in the box. Your child can make one for themselves and another as a gift for a friend!
Crayola Emoji Maker Video
What We Didn't Love About the Emoji Maker Set
It can be a little messy to build the stampers so it's not really an "independent play" set until the stampers have been put together.
Crayola say the ink is washable but be prepared and protect your furniture and flooring against any potential spills!
Just as a heads up the emoji symbols that the stampers create are on the small side, which is not really a problem, but your child will need to practice a bit before they make that perfect emoji!
Is the Crayola Emoji Maker Worth the Money?
Crayola Emoji Maker, Marker Stamper Maker, Art Activity and Art Tool, Makes a Great Gift
There is a lot of life in this set because once your child has put all the stampers together they can then use them for their craft and writing projects.
It's suitable for different ages which means it's something that siblings can use together making it really good value for money.
It's currently on sale for less than 20 bucks making it a great gift idea.
More Crayola Maker Gift Ideas
Crayola Marker Maker Wacky Tips
Crayola Paint Maker
Crayola Melt 'N Mold Crayon Cruiser Expansion Pack
Crayola Marker Maker
Get more Bright Ideas
Get the latest Bright Ideas in your inbox!
Pop your email address in the box below and we'll send you the latest Bright Ideas every Friday so you don't have to miss any!