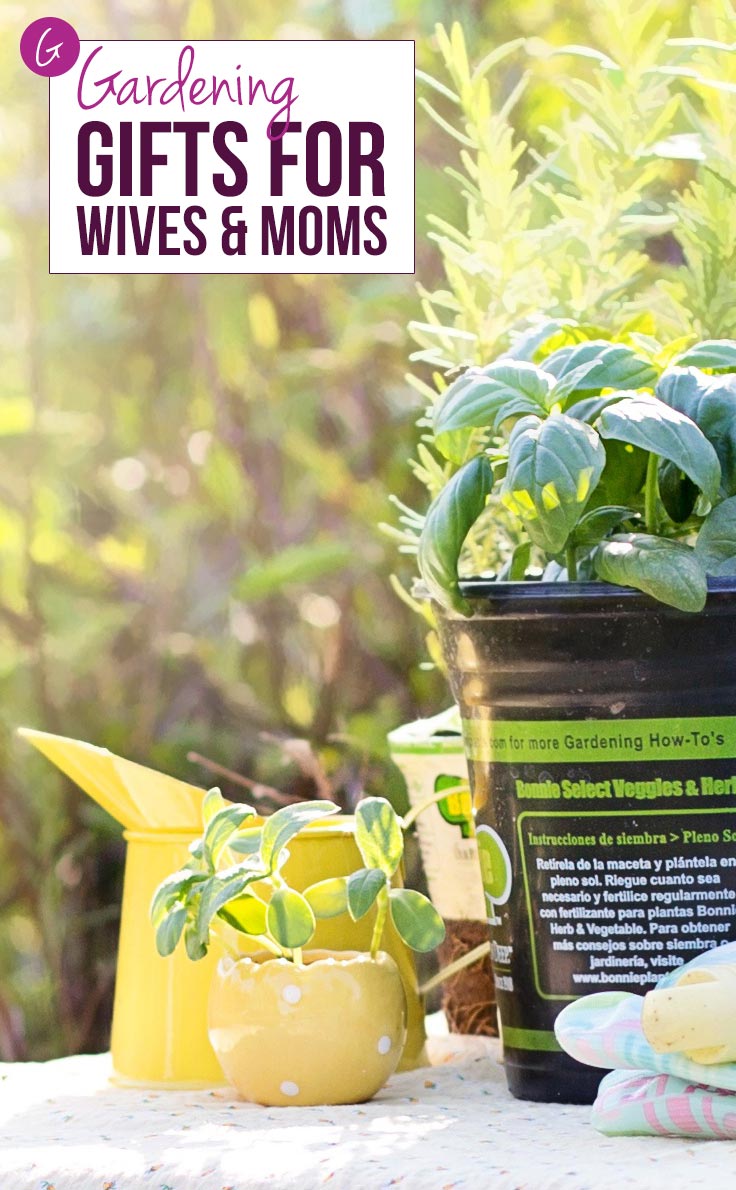 We've rounded up some of the best gardening gifts for moms we could find.
From Hori Hori garden knives to kits for growing multicoloured vegetables. Some are unique, some are fun, but whichever one you pick your mom is sure to love you for it!

Gardening Gifts for Moms
Every gardener needs a knife and this one will make a beautiful gift for mom whether it's her birthday or Mother's Day.
It's heavy and beautifully made, with an extra sharp stainless steel blade and a leather sheaf to keep it safe.
The wooden handle is made from wood certified by the FSC so you can be reassured that no animal habitats were damaged to make it.
They say that Hori Hori knives are like the cadillac of gardening tools which makes it the perfect gift idea.
If your mom has taken to using a folding chair to sit on while gardening it is probably time to treat her to one of these gardening stools.
It's just the right height for sitting and it feels nice and sturdy so mom won't have to worry about tipping over and ending up in her flower beds!
It comes with a tool belt that can either be attached to the side or the underside of the seat so that all of the included tools are within easy reach.
One thing worth noting is that the tool set is nice quality, but if your mom is an experienced gardener she may already have much nicer tools in her collection. Don't let that put you off though, the stool alone is worth the price and she might like to let the grandkids use the tools that come with it instead of her more expensive ones!
If you're looking for fun gifts for mom then this kit is a great idea!
Inside the box mom will find everything she needs to grow five different funky vegetables. The growing pots, peat blocks and plant markers are all inside the box as well as the seeds (20 per variety) to grow purple carrots, red brussels sprouts, stripy tomatoes, yellow zucchini and multi coloured swiss chard!
Gloves are a must to protect the hands and skin while out in the garden and these gloves are on the bestseller list over on Amazon.
They have a durable nylon shell that keeps the dirt and bugs out but lets the skin breathe so hands don't get all sweaty and uncomfortable.
They also have a great grip so mom won't have to worry about dropping her tools.
When they get wet or muddy they can just be thrown in the washing machine so they should last for many many years.
If you're looking for unique gifts for mom then this tin of soap is a great place to start.
The soap is handcrafted and contains only natural ingredients including a beautiful essential oil blend. It smells of lemons and will help mom's hands stay smooth and moisturised after she has been out enjoining working in her garden.
These plant labels are a great gift idea because as well as being practical they are also much prettier to look at that the regular white plastic ones you can buy.
Each label is made from copper and is approximately four to six inches wide, and has a large surface to write on so mom can keep track of what she has planted where.
Each label has two stakes so that it stays firmly planted in the ground.
If your mom complains that her knees are hurting after she has been out tending her garden then this is the perfect gift idea for her.
The kneeling pad is made from high density foam so it's comfortable to kneel on and protects the knees from stones or other sharp objects.
It has a handle too so it's easy to carry around.
It comes in three colours too so you can choose the one you mom will like the best!
If your mom is new to gardening and doesn't really have any tools or equipment this is a great gift idea because it has everything she needs to get started.
An apron to protect her clothes, a pair of gloves to protect her hands, a foam pad to protect her knees and some basic gardening tools.
The tools are weighty and well made and there's even a pair of pruners included.
And to top it all off Apollo are donating one dollar from every purchase to the Breast Cancer Research Foundation.
Every gardening mom, whether she is just getting started or she's been green fingered from her childhood, needs a copy of this book!
The author Sharon Lovejoy has collected up all of her homespun gardening advice and created a book that is whimsically illustrated but packed full of must-read advice.
Even if your mom only adopts one or two tips from the 700 included her garden will love her for it!
Whatever your mom learns from a book or from trial and error your mom will want to make notes so she can refer to them in the future.
This journal, planner and log book all rolled into one will allow your mom to keep track of what works in her garden.
She'll be able to keep track of what she bought and from where ready for when she needs to replace something that grew exceptionally well.
And it is a great way to keep track of what needs to be done before each season to keep her garden looking it's best.