When our Master Toy Testers turned 3 we knew it was time to take them to have their teeth checked out and while we were talking about how we could make this as stress free as possible we stumbled across the Play Doh Doctor Drill & Fill set!
What better way to talk to our kids about tooth care and visiting the dentist than by using a little pretend play mixed in with Play Doh?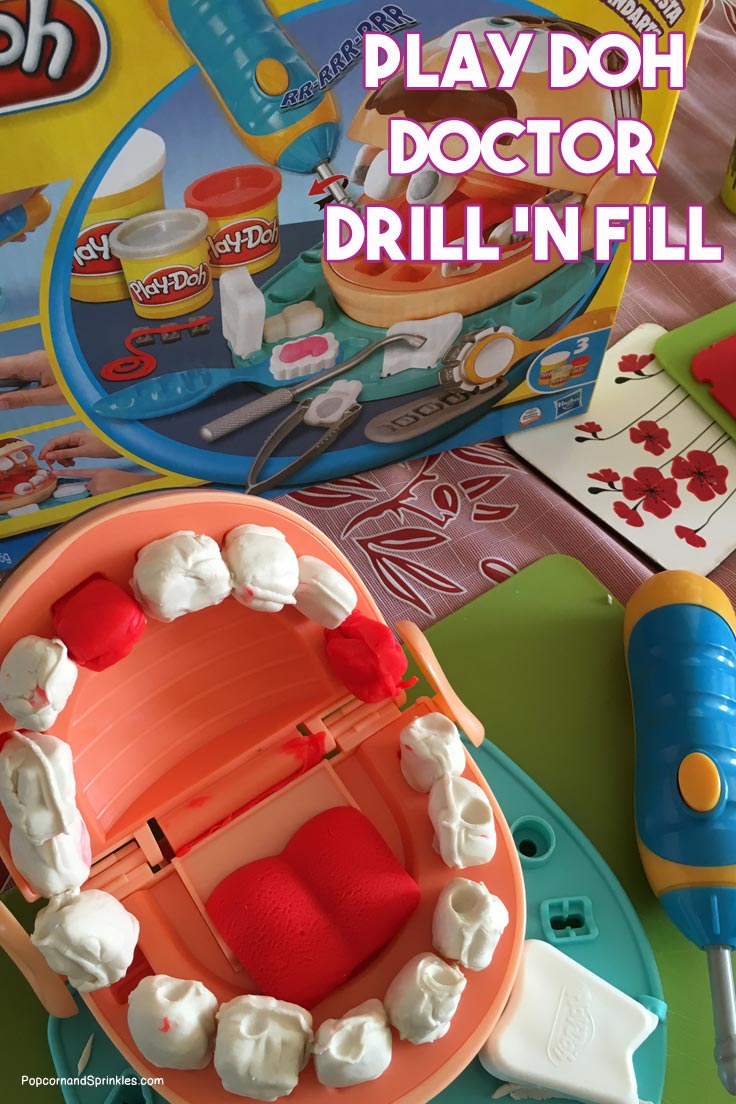 Tip Back the Patient's Head and Make Him Some Teeth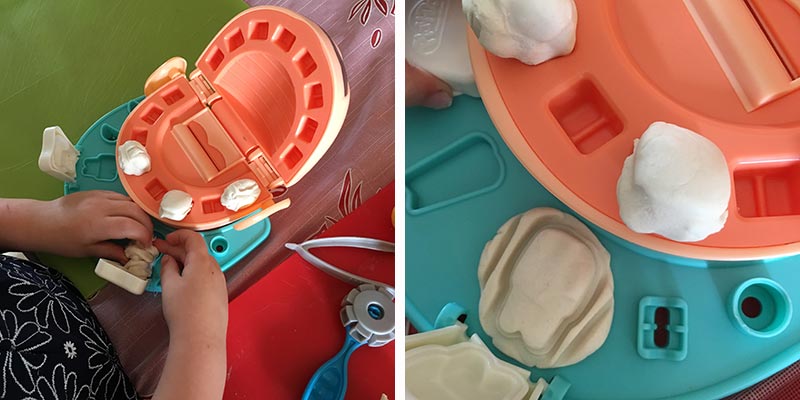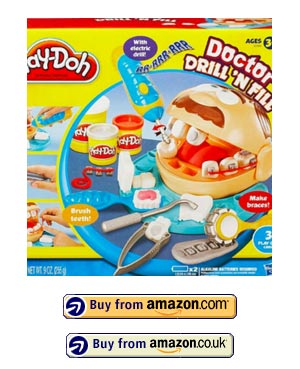 Before you jump in and start making teeth (like we did!) you need to make the tongue which is pretty neat; you have to put the red Play Doh in the back of his head and then close it up so his tongue squeezes through!
Then grab the white Play Doh and make your patient some teeth using the little moulds around the outside.
It took us a while to work out that the two moulds are different so you can create incisors and molars.
Doodle Bug decided that since there was more red Play Doh than we needed for his tongue that we should make red teeth too.
You are supposed to use the red to make the wires in the braces but that was a little but too fiddly for us!
Inspect His Teeth for Cavities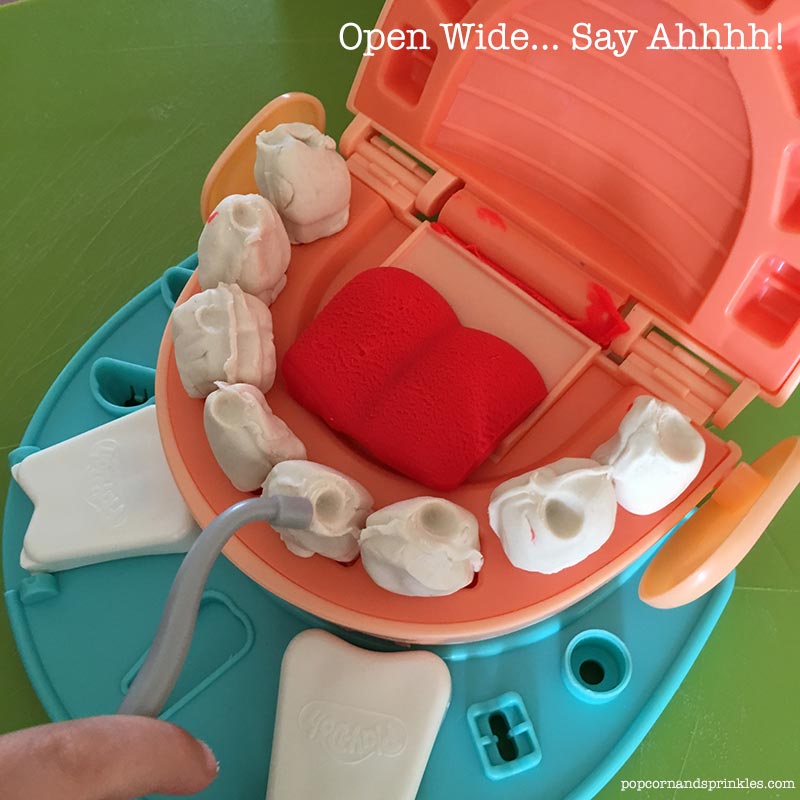 Once the teeth are all done you can use the dentist tools to check for cavities.
This is a great time to talk about what happens to your child's teeth if they eat too many candies and don't brush every day!
Don't Worry About Perfection!
The #PlayDoh Drill n Fill set is a great way to talk to kids about tooth care! #ad https://t.co/K2ocjE1wcD pic.twitter.com/NOznfIgxuC

— Clare Swindlehurst (@SuperMommyClub) May 30, 2016
Ha! Is it just us or do your Play Doh creations never look as perfect as the ones on the box? Don't let your child worry about making everything look perfect (like these robot kids) just encourage them to have fun!
Grab the Drill and Get to Work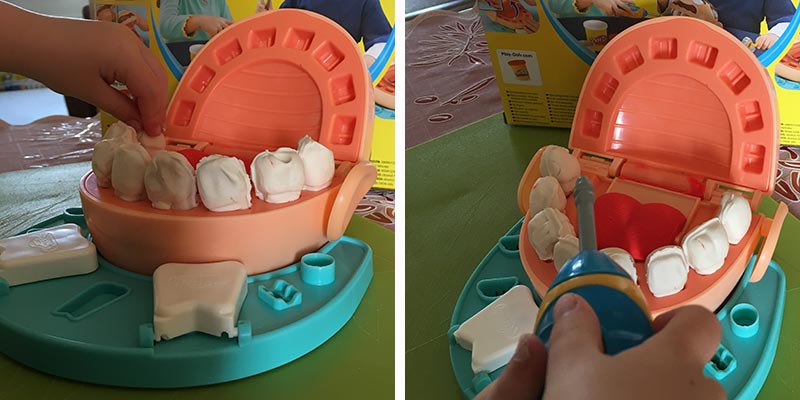 Uh oh! Our patient had been eating way too much chocolate because his teeth were full of cavities so Doodle Bug set to work with the drill.
This was her favourite part of this Play Doh Dentist play set, it's really easy for little hands to use, and sounds pretty realistic too!
There's grey Play Doh in the box so that you can create some neat little fillings.
Inside the box you'll also find a toothbrush (which you can fill with Play Doh toothpaste), a roller for making braces and a pair of tweezers for carrying out a tooth extraction!
Play Doh Doctor Drill n Fill Video
Check out this little video we made for you so you can see how much fun that drill is!
Buy the Play Doh Doctor Drill & Fill Set Online!
We're always hunting for awesome play doh sets and this one certainly fits the bill. We had great fun playing with the Play Doh Doctor Drill & Fill set and Doodle Bug highly recommends it!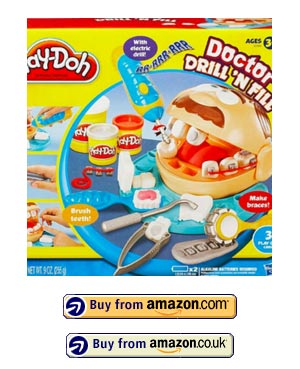 ---
Get more Bright Ideas
Get the latest Bright Ideas in your inbox!
Pop your email address in the box below and we'll send you the latest Bright Ideas every Friday so you don't have to miss any!