If your kids spend all of their free time sitting in a chair playing video games and you wish they would just get up and move then one of these fabulous robotic toys might be the answer!
Whether they require your child to build them from scratch, or just learn some complex programming skills to operate the robot via their smartphone all of these robotic toys will encourage your child to get up out of that chair and have fun (and they'll learn some new STEM skills without even realising!)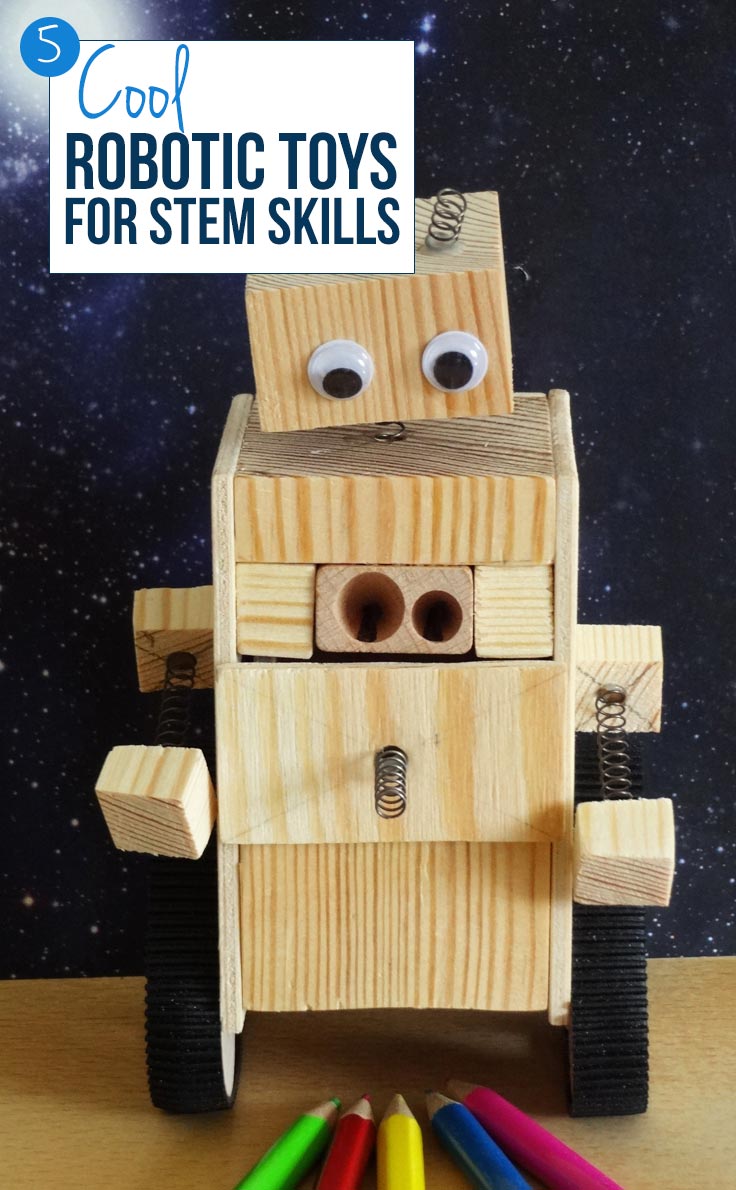 Robotic Toys

I don't think I have ever seen anything like this robot kit before. Your child can build 14 different robots, there are seven suitable for beginners and another seven robot designs for those kids who are more advanced.
Once built the various robots move around on land as well as water, and it's solar powered so you never need to worry about running out of batteries!
This is the perfect robotics kit to help your child learn not only about robots but also about renewable energy and would be a brilliant addition to a homeschool curriculum.
Star Wars fans will recognise this BB-8 Droid from the most recent movie. His movements are controlled by a smartphone app, and he's not just a toy, he's actually a great companion, because every time your child plays with him his personality adapts based on their interactions and voice commands!
If you think this looks like just a ball, you would be every so greatly mistaken. This app-enabled robotic sphere is currently being used in schools across 20 countries to help keys learn complex principles about math, science and computer programming.
It currently connects to 30 apps so kids of all ages can enjoy playing with this robot while learning at the same time.
Just one word of warning, as with most spherical items it doesn't cope well with carpets, especially if you have really deep plush ones!
Move over Scalextric there's a new kid in town! Kids can use a smartphone to control these robotic cars as they do battle on the "battlefields" that can be built in a matter of seconds.
Inside the box there are 10 pieces which can be put together in a variety of ways to form eight different battlefields so there is no room for boredom here. And if that wasn't enough you can use the power of your smartphone to upgrade your car's speed, weapons and defences!
There are a whole heap of expansion options available too
Let's finish our robotic roundup by introducing you to Ollie. Don't be mistaken by the smallness of this robot because he really packs a punch! He has been engineered and programmed to take on all kinds of tricks, all customise by your child by using their smartphone.
Younger kids will love the trick mode while older ones will enjoy working out how to make Ollie do exactly what they want him too.
And if you do live in a house with lots of carpeted floors you will be pleased to read that Ollie can handle them no problem at all!
If your child is struggling with developing STEM skills these robotic toys could make a big difference!
Get more Bright Ideas
Get the latest Bright Ideas in your inbox!
Pop your email address in the box below and we'll send you the latest Bright Ideas every Friday so you don't have to miss any!