Surprise and delight the sun worshipper in your life with these thoughtful stocking stuffers for beach lovers!
Stocking Stuffers for Beach Lovers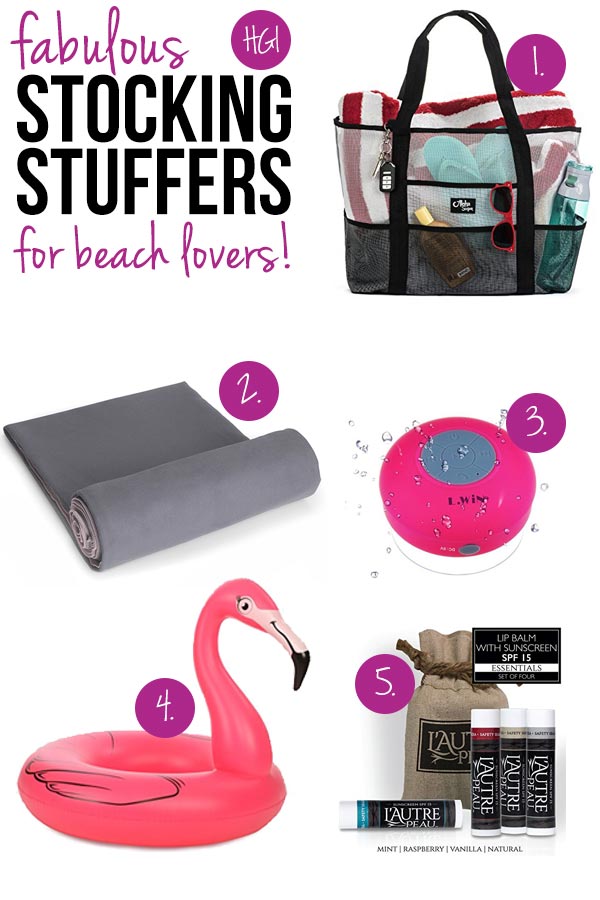 1. A Mesh Beach Bag
The one thing that every beach lover needs is a beach bag for carrying all of their essentials. Forget about the "stocking" this year and put all of your stuffers inside this beach bag instead!
We love this one because it's made of mesh, so sand and water won't collect in the bottom of it!
It's a HUGE bag and has seven outer pockets that are perfect for holding sunscreen, and glasses, hats and snorkel gear and all the other beach essentials.
It's nice and sturdy too so it won't collapse or topple over as soon as the towels are removed.
There's also a secret pocket inside the bag for storing valuables while your friend is having a swim!
The other thing we like about this bag is it's also perfect for taking to the gym, or on family outings. So your friend can use it all year round and not just while she's at the beach.
2. Huge Beach Blanket
Large Beach Blanket with Clever Sand Pockets
Your beach loving friend needs somewhere to sit while she's enjoying herself at the seaside and this huge beach blanket is perfect.
It's big enough for two people (measures 64″x76″) and it has these clever pockets in the corner that you can fill with sand so the blanket won't blow away!
It's made from microfibre so it's super thin and lightweight making it easy to carry. And of course it's super absorbent too so it doubles up as a towel!
When your friend isn't on vacation she can use this blanket for camping trips or picnics.
3. A Waterproof Bluetooth Speaker
If your friend is also a music lover she's gong to want to listen to her favourite tunes while chilling out at the beach and this waterproof speaker will give her six hours of music time!
It uses bluetooth so its compatible with pretty much any smartphone or tablet, and your friend can even use it as a handsfree kit for taking calls!
It's waterproof so when she's not using it at the beach your friend can stick it in the shower at home.
This bluetooth speaker comes in a range of bright and funky colours so you're sure to find one to match her personality. You can click here to see them all.
4. A Jumbo Pink Flamingo Float
So far we've been giving you some pretty practical ideas for beach stocking stuffers that can be used all year round. But if you're looking for a funny stocking stuffer for a beach lover you just have to put one of these in her stocking!
Seriously, no day at the beach is complete without a huge pink flamingo!
5. SPF Lip Balm
Most of us are pretty good at remembering to apply sunscreen when we're at the beach, but we often forget about protecting our lips.
This set of SPF lip balms is the perfect stocking stuffer idea.
There's four different flavours (mint, raspberry, vanilla and natural) and they come in a lovely gift bag for keeping them all safe.
6. Starfish & Seashell Pendant
Let's finish up this collection of stocking stuffers for beach lovers with a gift idea that isn't actually for using at the beach, but for reminding your friend of the beach every day.
It's a gorgeous handmade pendant that's filled with teeny seashells, pearls and a starfish.
It comes in a gift box and really is a lovely gift idea for a friend who just loves the beach!
Get more Bright Ideas
Get the latest Bright Ideas in your inbox!
Pop your email address in the box below and we'll send you the latest Bright Ideas every Friday so you don't have to miss any!