I can't believe it's November already! October was a bit of a crazy month for me. I resigned from my day job to be a Stay at Home Mum, and I've been frantically writing posts for my blog because tomorrow we're off to the States for nearly two weeks. I'll confess that the thought of being away from this site is a little bit terrifying…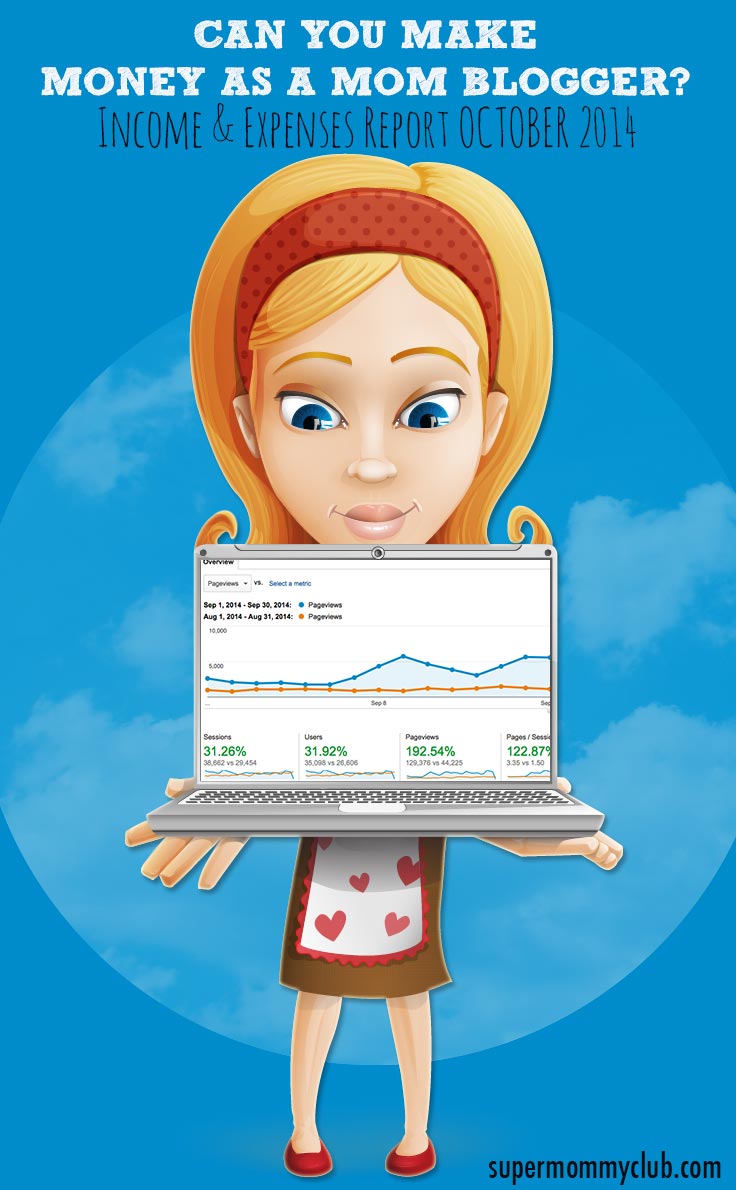 Show me the money
Income for October
The numbers in brackets are September's numbers for comparison.
Advertising income – $258.78 ($223.87)
Affiliate income – $209.54 ($96.68)
Brand work – $50 ($140)
Product sales – $304.05 ($1)
Total Income $822.37 ($461.55)
Expenses for September
Keeping the lights on
Total expenses $101.50
Profit this month $720.87
Thoughts on income
Well my advertising income was pretty static, I haven't really had time to optimise my ad slots as I've been focusing on writing content instead. I have just been taken on by The Blogger Network so that means they'll do the optimisation on the ads for me and I'm interested to see the results. November and December are busy months for advertisers as we move towards the Christmas shopping season and they need to spend their budgets or risk having them reduced next year.
I saw a nice increase in affiliate income which is mainly down to the free offers from Escalate that I am promoting on my Free Baby Stuff post. That post got pinned quite a lot last month and was my third most popular post. It's actually really nice to have a post that is earning revenue, and I can see that when traffic increases to it so does the income. I need to create more of these!
I also saw great results from my own product sales this month. And nope my Kindle book did not suddenly become popular. I published an ebook right here on the blog about how to make the most of Google Analytics Dashboards. The response to it so far has been really positive and I'm glad to have a product in my portfolio because I think it's an important part of diversifying so I don't rely solely on ads and brand work.
Some notes on expenses
I managed to not spend any extra money this month so all expenses are my monthly 'keeping the lights on' costs.
Want to see some traffic stats?
The other thing I like to share with you are some snapshots from my Google Analytics account to show you how my traffic is growing month on month. After all the more traffic we have the more likely we are to make money from our blogs.
Page views for October
September figures are in brackets for comparison.
Total unique visitors – 46581 (36099)
Total visitors – 51297 (52308)
Total unique pageviews – 68605 (38622)
Total pageviews – 207406 (129376)

If you remember I switched my mobile site to PadSquad last month which changed the way my pageviews are counted. This month we're back to comparing like for like.
My site broke three records this month where PVs are concerned. First I had an 8000 PV day… then I had a 9000 PV day… then I broke 200,000 PVs in a month! Hubby has challenged me to try and break the 250,000 barrier this month but we shall see…
Traffic sources
It's been a bit nerve wracking this month as Pinterest has made some major changes to the way pins are displayed to readers. There's no 'live feed' anymore, instead the pins are pushed out to readers depending on their interests and how popular that pin is. The last couple of days of October were terrible for me in terms of traffic, but my Pinterest referrals still account for 67% of the total which is only 1% down on last month. I'll let you know how that pans out during November!
My organic search traffic has increased from 9% to 12% and I want to work on growing that number further. If Pinterest goes the way of Facebook I need to be able to rely on Google!
RPM for October
Each month I'll include my RPM, which stands for page revenue per thousand impressions. This will show me how effectively I'm monetising my blog.
As the months go by the figure should increase, so I'll put last month's RPM in brackets.
RPM for October = $3.97 ($3.57)
Only a very small increase in RPM this month. My income almost doubled, but I've had a big increase in PVs too so that's reduced the impact. I really need my advertising to work harder.
You can find out more about what RPM is and how to calculate it by reading this post on RPM here.
Super Mommy Club follower numbers
I also want to use this report to take a snapshot of my follower numbers. I started all of these accounts in January with no followers (except for my personal google plus profile which had about 500) and my goal for each of them was to have 1000 followers by the end of 2014.
Note: the numbers in brackets are the follower numbers for the previous month.
Google + Personal 1757 (1705)
Twitter 2205 (2054)
Pinterest 2084 (1687)
Instagram 204 (203)
Google + Page 187 (161)
Newsletter Subscribers 206 (201)
Facebook Likes 2145 (1795)
Talking about 229 (574)
Talking about percentage 11% (32%)
Post reach 4764 (8853)
I passed 2000 followers on Pinterest and Facebook this month which is great news. I still hate Facebook though. At the beginning of the month I was getting fantastic reach on my posts and had an overall post reach of 14000, then it started to nosedive and now I'm lucky if my posts get seen by more than 20 people. I'm going back to posting every other hour and I'll see what impact that has on my reach.
What are your blogging goals for November?
I'm having a blogging break (eek) for the next two weeks. CoSchedule, ViralTag and PostPlanner will be taking over my blog in that time as I have scheduled out all of my posts and social media updates. When I get back I'll be working on my editorial calendar for 2015 and working on a strategy for increasing my organic search traffic.
What about you?
If you want me to drop you an email when I publish next month's report, or if I share any blogging related posts in the mean time just stop your email address in the box below: