The super fun part of your bujo is the trackers and collections! Choose from our HUGE list of bullet journal ideas 2019. So many things to track in your bullet journal you might not have thought of!
This post may contain affiliate links, which means I may receive a commission if you click on a link and purchase something.
Bullet Journal Ideas 2019
Whether you're a beginner and new to the whole Bullet Journal craze or you're just ready to take your journalling to the next level you will be totally inspired by these Bullet Journal ideas for 2019!
We have collected so many great bullet journal ideas, inspiration and printables over the years that we've had to split everything up, otherwise this post would take until 2020 to read!
So if you want bullet journal tracker ideas or inspiration on how to set up a collection (or six) you're in the right place.
What Can I Track in My Bullet Journal?
What can you track in your bullet journal? Oh anything and everything! Seriously we have such a long list of things to track you're going to be spoiled for choice!
From tracking your sleep and your daily steps to monitoring your migraines and remembering when you last changed the oil in your car, there is a creative tracker layout here for everyone to use in your 2019 bullet journal!
Just try not to go overboard, otherwise you'll have to go and buy another journal to put them all in!
We have a ton of tracking ideas right here in this post, and then if we had too many to squeeze in to a section you'll find a link to another page with even more inspiration for you to drool over!
Just scroll down to check out the eye candy.
Health and Wellness Tracker Ideas
Your Bullet Journal is a great place to keep track of your health and overall wellness, here are some ideas for recording your sleep patterns, doctor's appointments and monitoring your migraines.
Track your sleep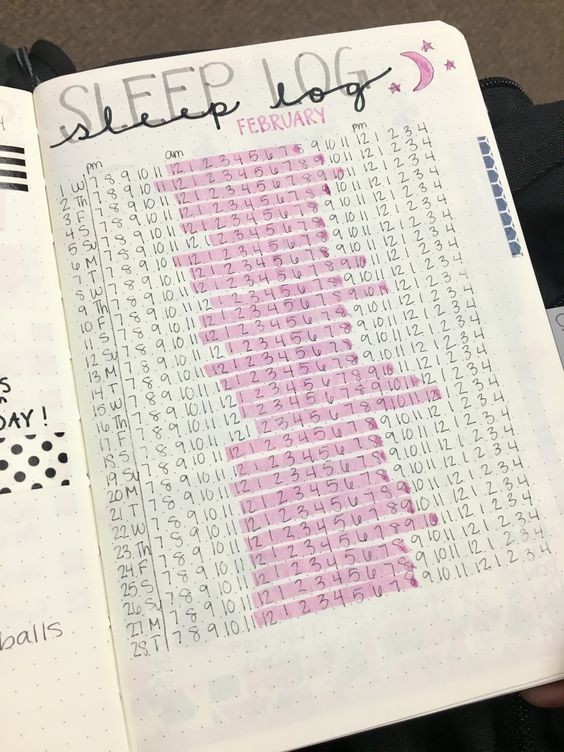 Sleep, it's the one thing most of us want more of! And of course lack of sleep leads to irritability so its a good idea to track your sleep patterns and see how much you're actually getting each night!
If you have children think about tracking their sleep patterns in your BUJO too. My son is a terrible sleeper and when he goes through a bad patch I whip up a sleep tracker spread to monitor what's going on.
Track your Doctor appointments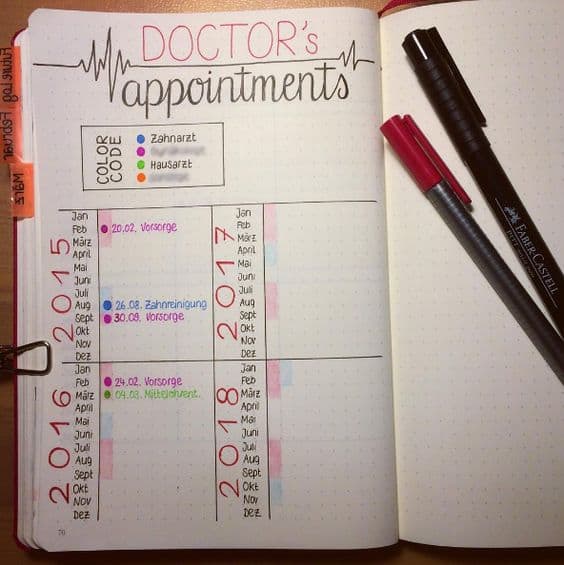 Keeping track of your family's doctor appointments is also a good idea. I like how this layout covers several years on one page which is perfect if you don't have to visit them too often. Tracking doctor and healthcare professional appointments is even more important if someone in your family has a health condition that requires regular monitoring or treatment, in which case you might want to dedicate a whole page per calendar year.
Monitor your migraines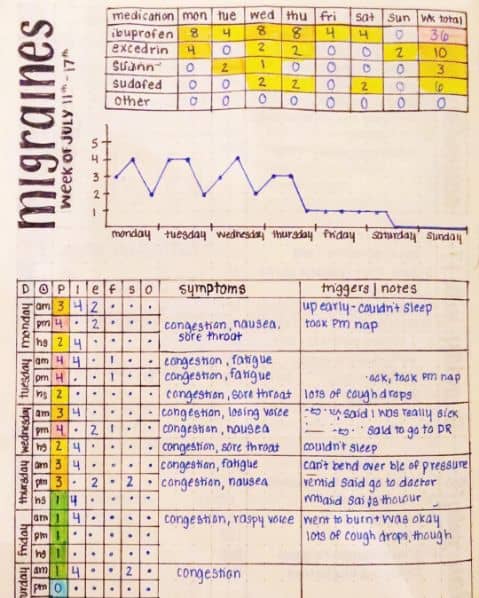 This is an excellent tracker layout if you suffer from migraines and want to be able to track your symptoms and triggers. It will help you to make sure you take your medication properly too.
Exercise and Fitness Bullet Journal Layout Ideas
What are your fitness goals for the coming year? Whether you want to track your fitness routine, up your daily step count or lose some weight these creative bullet journal layout ideas will help you get going!
Track your fitness routine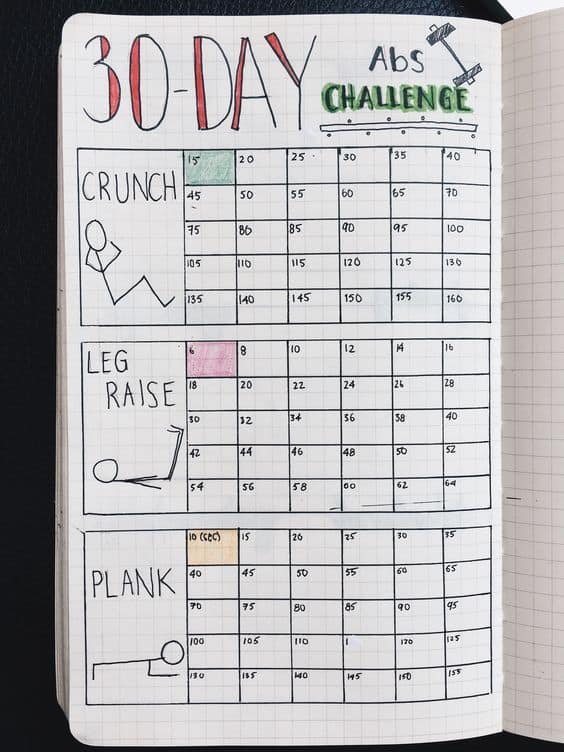 Challenges are a great way to motivate you towards meeting a goal, and you can take part in an official challenge, join up with some friends or just go ahead and challenge yourself! This tracker is a simple way of monitoring your progress towards three fitness goals.
Track your steps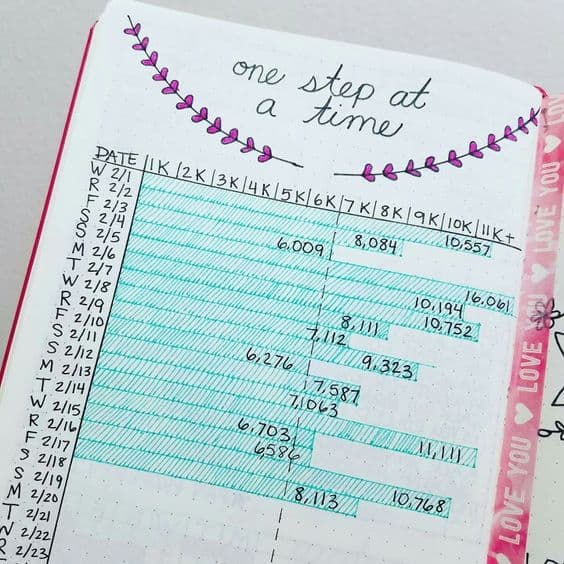 If you want to increase your daily step count try a layout like this step tracker. I like how they put their daily goal as a line down the middle but left room to exceed it for those days when you can walk more than usual.
Oh and I used to try and track my steps with my iPhone but I much prefer my Fitbit Charge 2. Seeing my step count every time I check the time is pretty motivating, and I love how it prompts me to get up and move once an hour.
Track your weight loss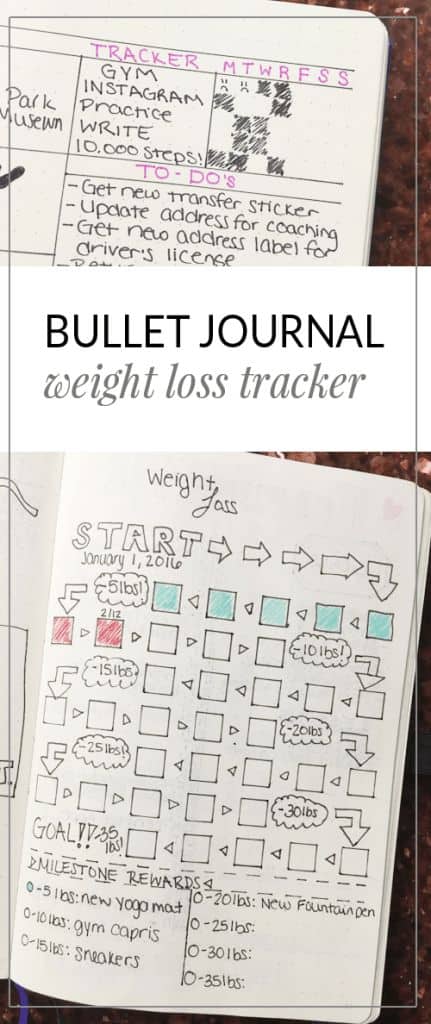 I love this weight loss tracker spread with it's built in rewards to celebrate your progress along the way!
Use your Bullet Journal to organize your meal times
Here's a set of Bullet Journal tracker ideas to help you organize meal times and make sure that you and your family are eating healthily.
Plan your diet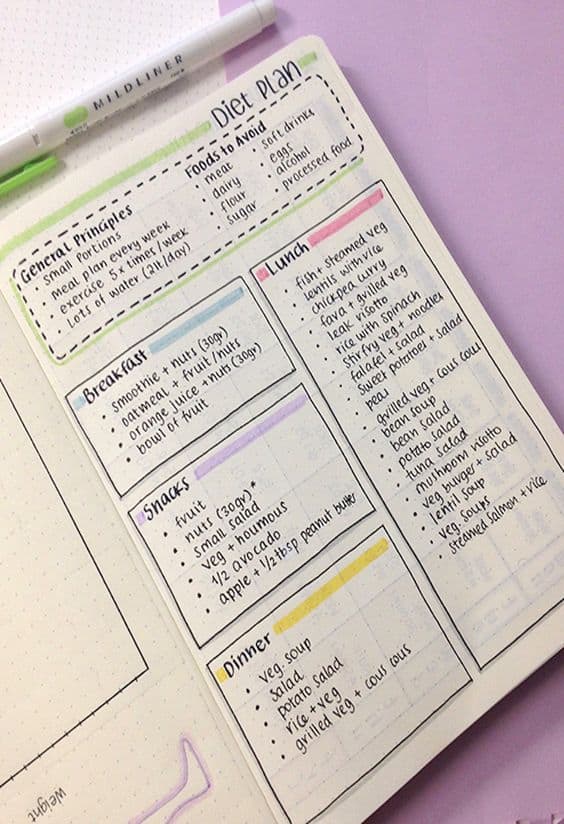 This tracker was created as a diet plan, but don't scroll past if you're not "on a diet" right now. It's also a really useful layout for a weekly meal plan whether you're meal prepping, Keto-ing, Whole 30-ing, or just planning out what to feed your family this week!
Track your water intake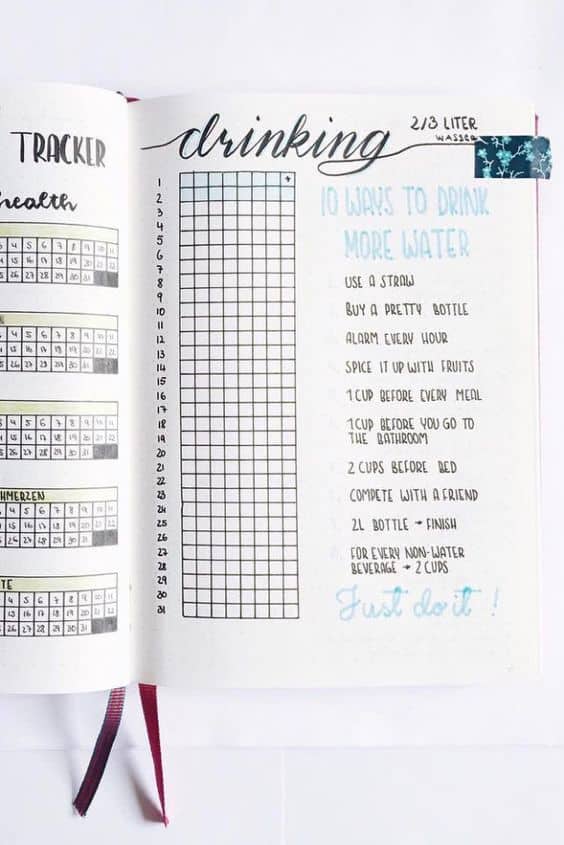 If you need to drink more water it's a good idea to track your daily intake on a water tracker spread like this one. I like how they included "10 ways to drink more water" to inspire them to build the habit!
Plan your meals
Bullet Journal tracker spreads to help you journal your life
Don't forget that your Bullet Journal can also be used as a diary and these are my favorite spreads and collections for keeping track of the things that are important to you right now.
Try a monthly spread to keep track of what you're currently doing
Track the movies you watch
Or track your tv shows
Track your craft projects
If you're a keen crafter you can use your Bullet Journal to note down the projects you are working on and track your progress. I like this two page layout because it has room for a picture.
Bullet Journal Ideas for Tracking Your Mental Health
Self care seems to be a bit of a buzz word right now but it really is so important to look after our mental health as well as our physical health. The following spreads, collections and trackers are a great place to start.
Track your mood
Track your year in pixels
Track your memories and milestones
Keep track of your travels
If you're a regular traveller you'll probably want to start a standalone travel journal, but if your trips are less frequent you can plan and track them right there in your Bullet Journal.
Countdown to your Disney vacation
Track your bucket list
Keep track of your money with these Bullet Journal collections
Your Bullet Journal is also a useful place to monitor your budgets and expenses, since you have it right there with you all day.
Track your budgets and expenditure
Track your savings goals
Track your debt payoff – Dave Ramsey style
Keep your household running smoothly with these Bullet Journal trackers
If you have trouble staying on top of your household chores it might be time to pop some goals and schedules into your Bullet Journal to remind you what you need to do!
Track your chores
Track your car maintenance
Track when you last…
Use these Bullet Journal trackers to organize your time and track your goals
Using your Bullet Journal to track your time and your goals is probably the most obvious so here are some creative ideas to help you decide how to do it.
Track your mini goals
Plan your morning routine
Remind yourself of birthdays
Use the Dutch Door hack to track your week
Plan your Christmas festivities
The easiest way to take the stress out of Christmas is to plan, plan and plan some more! And your BUJO is the perfect place to do it!
Track your Christmas shopping
Keep track of your fertility
And now for the female health trackers. Whether you're trying to get pregnant, monitor your nursing schedule or just know when to expect your period these creative layouts should give you some ideas!
Track your period
Track your IVF cycle
Track your antenatal appointments
Track your breastfeeding